The scientific name of lemon is Citrus limon. It is an evergreen plant that is a member of the Rutaceae family and native to Asia. They are widely used for cleaning, culinary, and medicinal purposes.
Lemon consists of citric acid which is responsible for its sour taste. Also, it is a great source of Vitamin C.
All the parts of lemon including its pulp, peel, and even leaves of the tree are made use of in the preparation of different items.
So, what is the pH of lemon? Is lemon acidic or basic? The pH of lemon lies between 2 and 3 on the scale indicating that it is an acid. We already know that the pH value of a substance is the measure of its acidity or alkalinity. A substance having a pH value below 7 is an acid while the one having a pH value above 7 is an alkali. The acidity increases as the pH value further declines and alkalinity increases as the pH value escalate.
Actually, the term pH stands for "potential of Hydrogen ions" and its value for acid is determined by two factors viz. the strength of the acid, which is measured by its eagerness to donate protons, and the concentration of the acid in a solution.
The pH value of lemon depicts that it is a weak acid.
However, as the pH scale is logarithmic a 2-3 pH value means that lemon is 10,000 – 100,000 times more acidic in comparison to water which is neutral.
Being a weak acid means it behaves as a buffer with other strong acids such as hydrochloric acid.
A recent theory also states that lemon, although acidic but behaves as an alkali inside the body after it has been burnt by the stomach acids and completely digested.
Why is Lemon Acidic?
The acidic nature of lemon is contributed by its constituents viz. citric acid and ascorbic acid that are present in large amounts.
Citric acid is a weak organic acid and is especially responsible for the acidity and the sour taste of lemon.
It is corrosive in nature and may cause serious damage to the enamel layer of teeth causing sensitivity and pain due to which it is advised never to consume concentrated lemon juice without diluting it with water.
The percentage of citric acid varies between 6-8% in lemon juice. Also, 100 mL of lemon juice contains about 34.8 mg of ascorbic acid.
Are Ripe Lemons more Acidic?
Yes, ripe lemons are more acidic than unripe ones.
Generally, the acid content of the fruits lowers down as they ripen. This is due to the degradation of acid molecules to form sugar such as fructose.
This is the reason that most fruits taste sour when unripe and sweet as they ripen.
However, in the case of lemons, it is the opposite. As the lemon fruit ripens it accumulates more amount of citric acid which further enhances its acidity and also makes it sourer in comparison to unripe lemons.
Some people confuse the color of lemon with its acidity with green lemon being more acidic like other fruits.
However, the green color of raw lemon is due to the presence of chlorophyll while the yellow color of ripe lemons is contributed by various carotenoids such as carotenes and cryptoxanthins and does not play any role in its acidity.
Types of Lemon
A number of varieties of lemon are cultivated around the globe that differs in their acidity as well as nutritional values.
Actually, the acidity of lemon is affected by various other factors and not just the species it belongs to.
For example, the lemons grown in colder climates are more acidic in comparison to those cultivated in warmer places, the nitrogen and potassium fertilizers used may also increase the acidity of lemon, rather it may even differ between the two fruits of the same plant depending upon their position and curing process.
A few of the lemon varieties along with their typical characteristics are given below:
• Avalon lemon: These are the extra-large lemons with high liquid content due to which they are ideal for juicing. They are mildly sweet in taste and are usually sold mixed with other fruit concentrates.
• Variegated pink lemon: As the name indicates these lemons contain pink pulp.
On the outside, they are yellow with green stripes. They have beautiful foliage due to which they are also used as ornamental plants.
• Verna lemon: These are adaptable to a wide temperature zone. The fruit is bright yellow, medium-sized, and contains only a few seeds.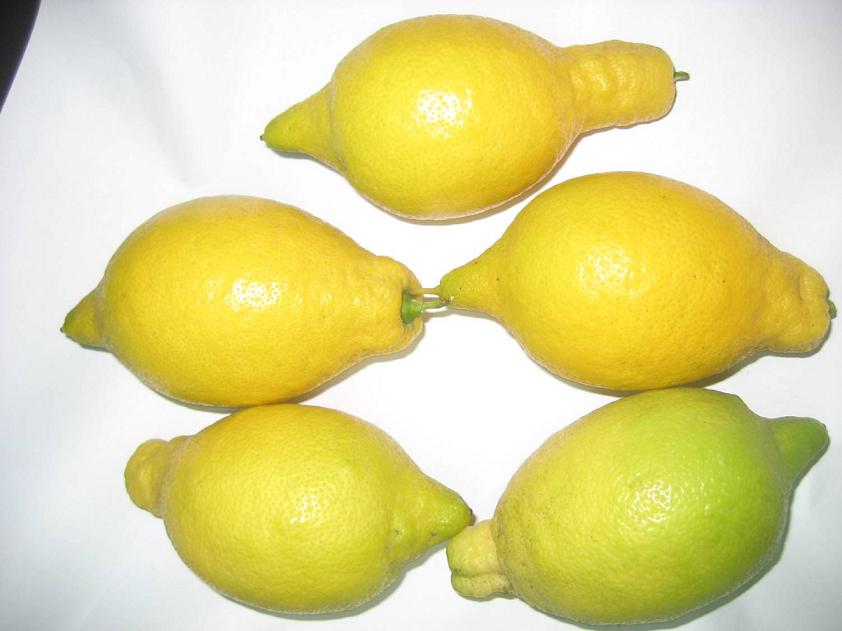 • Primofiori lemon: This variety is also known as fino. The fruit is very juicy and highly acidic due to which it cannot be consumed raw and is only used in cooking.
• Bearss lemon: It is the commercial variety of lemon. It is admired for its fast growth and thornless branches.
• Dorshapo lemon: It is the sweet variety of lemon that is even suitable for eating raw. The fruit peel is green even after ripening.
• Lisbon lemon: These are identified through the dark green foliage and bright yellow fruits.
They are available in local supermarkets. The fruit is large in size with high juice content.
• Baboon lemon: The fruit is highly sour and thick-skinned.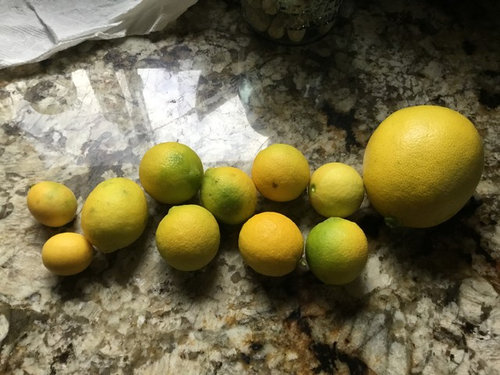 • Genoa lemon: This variety grows in colder climates and exists as a shrub instead of a bush. Its dense foliage makes it a highly admired ornamental plant.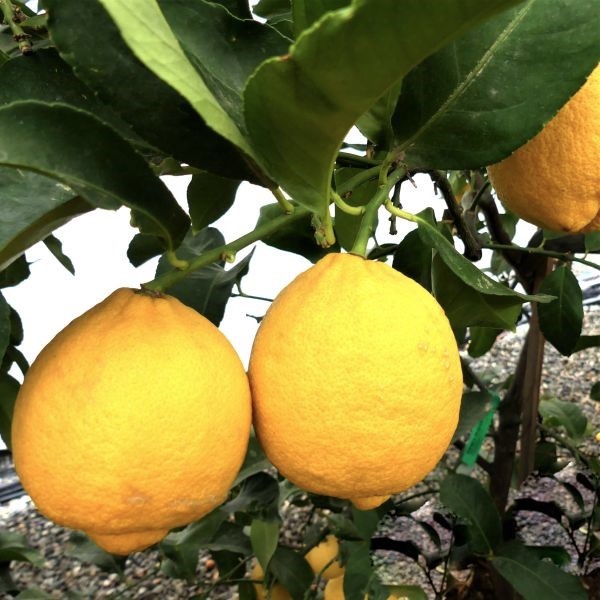 • Ponderosa lemon: It is a hybrid of citron and lemon and is, therefore, not considered a true lemon. It has purple flowers and its fruit may grow up to weigh 5 pounds.
• Volkamer lemon: It is a hybrid of orange and lemon. It is not grown on a commercial scale. Also, it has an unusual flavor and low acid content.
• Meyer lemon: It is said to be a hybrid of mandarin orange and lemon. It is a dwarf tree that is both disease and insect-resistant.
Which is a more Acidic Lemon or Lime?
The terms lime and lemon are used exchangeable but most people do not know that they are two different fruits.
The scientific name of lemon is Citrus limon while that of lime is Citrus Aurantifolia.
To differentiate between the two the lime is naturally green in color and sourer in taste while the lemon turns yellow as it ripens and is less sour in comparison to lime.
Amongst lime and lemon, lime has a lower pH than lemon and is, therefore, more acidic. Although, the difference in pH level is very minor and may easily be ignored under normal conditions.
Due to their different properties, these two fruits are used for different purposes in the food industry especially in the making of cocktails and mocktails.
Both of these are good sources of antioxidants and are said to be good for human beings.
Citric Acid
The sour taste and acidic nature of lemon, lime, and other citrus fruits are due to the presence of citric acid.
It occurs as colorless and odorless crystals that are sour in taste.
In an anhydrous state, it is a tricarboxylic acid known as Propane-1,2,3-tricarboxylic acid, which is denoted by the chemical formula CH2COOH-C(OH)COOH-CH2COOH or C6H8O7.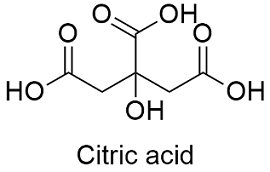 Owing to the presence of the carboxyl group it is readily soluble in water as well as alcohol.
Due to its antioxidant properties citric acid is used in the production of many pharmaceutical products.
It is also used as a preservative as it helps in maintaining the stability of active ingredients. It also works as a chelating agent for calcium thus, acting as an anticoagulant for the blood.
Properties
Lemons are a widely used variety of fruits that are grown worldwide. A plot of benefits is said to be associated with lemons.
From a nutritional point, 100 gm lemon contains 29 kcal (121kJ), 89% water, 1.1. gm protein, 9.3 gm carbohydrates, 2.5 gm sugar, 2.8 gm fiber, and 0.3 gm fat.
Other than these a few important properties of lemon are given below:
• Lemons contain a large amount of citric acid and ascorbic acid.
• They are rich in fiber and contain minerals such as iron, calcium, magnesium, etc.
• It is also a rich source of vitamins such as riboflavin, thiamin, pantothenic acid, etc.
• It is a rich source of antioxidants and many essential oils.
• It has natural anti-bacterial properties.
• Lemons are also high in folate content.
Uses
Lemon is used for a variety of purposes due to its amazing properties. Some of its uses are listed below:
• It is used in making marmalades, lemon curd, and other types of drinks.
• Lemon oil is also used in the preparation of cosmetics.
• A soluble fiber named pectin is present in the pulp as well as the peel of lemon which is known to aid digestion.
• Consuming lemon juice diluted with water is known to help in reducing weight.
• The high content of anti-oxidants in lemon helps in boosting immunity.
• Lemon is considered a rich source of vitamin C.
Conclusion
Lemon is slightly acidic in nature. It has a pH range between 2 and 3.
The acidity of lemon is contributed by its major constituents viz. citric acid and ascorbic acid.
Lemon juice contains about 6-8% citric acid and 34.8 gm per 100 mL ascorbic acid.
Ripe lemons are more acidic than raw lemons due to the accumulation of citric acid that makes them sourer.
Happy learning!!